Does your child go to school curiously and full of motivation every morning? Is it looking forward to the lessons, the teachers and his friends? Does it like to write class work and prepare for it? Does it enjoy new knowledge and learning? Or would you like to arouse the motivation that lies dormant in your child?
What about your child's motivation?
If you answer all these questions yes, your child will certainly not have a school motivational problem. However, this is not the case for most children. After the first months of school, the initial euphoria evaporates and many students often end up in the reality: too much homework, pressure to perform, lack of teachers, poor grades and lack of success experiences make learning an unloved challenge.
This easily "destroys" your child's motivation. It doesn't dare anything anymore, presupposes failures and really gets worse and worse over time.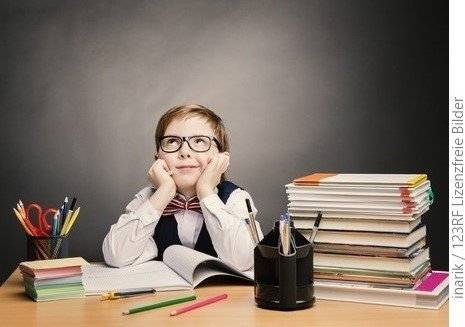 Awakening motivation – that's how it works!
If your child complains about school permanently, refuses to do homework, and seems lacklustre, they are most likely to have a motivational problem. If this condition persists for several weeks, you should do something about it. One thing is clear – every child can perform better through motivation. It can concentrate longer, remember the learning content more accurately and longer, learn more sustainably, more effectively, more witty and networked.
Being highly motivated is almost like being a bit obsessed. The environment is hidden and the learning topic takes centre stage. It is viewed from all sides, illuminated and wants to be understood. Children who are completely immersed in a book, a game or a craft work are driven by a strong motivation.
Easier learning with the Powercards
Sometimes you have to trick
You want to know how the book goes on, you want to win the game or finish the craft work, so maybe give it away. Your child should also achieve this condition while learning for school, so you should awaken his motivation. Of course, this does not always succeed, but from time to time it should work.
"In order for your child to cope with the requirements at school and to meet the requirements, they need so-called basic skills, which they develop from childhood.
Among other things, it is about building self-confidence, good motivation, contact with classmates, dealing with new knowledge or processing failures. Then it also works to arouse the motivation."
Find out what slows down your child's motivation
If you manage to arouse interest in the learning material with your child, that is already more than half the rent. The other half is trust in one's own abilities. And this often fails when the motivation has already been lost. So rebuild your child's learning motivation by boosting their self-confidence – so you can awaken their motivation.
To do this, you first need to find out what your child's motivation is. Check what your child likes and doesn't like in each school subject. For the subject German, we have compiled the following checklist to help you with this.
Motivational test school – German
German I like because…
… I like to read and write.
… I'm interested in books.
… I find the lessons interesting.
… I read voluntarily almost every day.
… I like to write letters or stories.
… I like to do German homework.
… my teacher is nice.
… I can read and write well.
… my parents often praise me for good performances in German.
… I have a good handwriting.
… make little spelling mistakes.
… I can read well.
Check the test result!
Thanks to the motivation test German you now have a fairly accurate picture of your child's preferences and dislikes in the subject German. Now you can awaken his motivation. For the sake of completeness, please take a small supplementtest with your child. Wait at least a day and then ask your child what they don't like in the subject at all.
I don't like German: ____________________________________________________________________________________________________
Now compare these statements with the motivation test. For example, if your child has ticked in the test that he or she likes to do German homework, but enters writing as an unloved activity when it comes to the supplementary question, he has not properly understood or answered the test questions correctly.
In this case, the test result is not meaningful. Clarify whether your child has understood the questions correctly and simply repeat the test.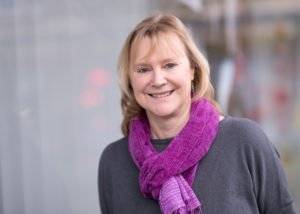 A strong motivation is the parents' belief in their child. "I think you've made an effort!" is a phrase that rebuilds primary school children with poor grades and strengthens their inner motivation.
Even if your child has not made the full commitment, at the next work they will want to prove that you have not been mistaken.
Awakening motivation – strengthening self-confidence
If your child has a weak self-confidence, is very shy or rarely has success experiences, he quickly gets into a negative thought spiral. Instead of tackling the next challenges positively and optimistically, it slows itself down by a dangerous negative expectation.
Negative sentences of the thought spiral
"I can't do that anyway!", "Certainly something comes in work that I can't!", "Time, as always, won't be enough for me"! etc. typical sayings that reduce a child's chances of success. Negative beliefs paralyze energy, block curious thinking, and inhibit the pace of learning. Instead of facing up to the tasks ahead, such attitudes lead to veritable blockages of thought.
Strengthen your child's motivation by saying"I can do this! " Poster.
In just a few steps, your child can build a positive learning attitude and trust himself more. This step-by-step guide definitely boosts his motivation. If you want to support your child permanently, you can download our motivation poster for free.
Awakening motivation with the "I create the poster"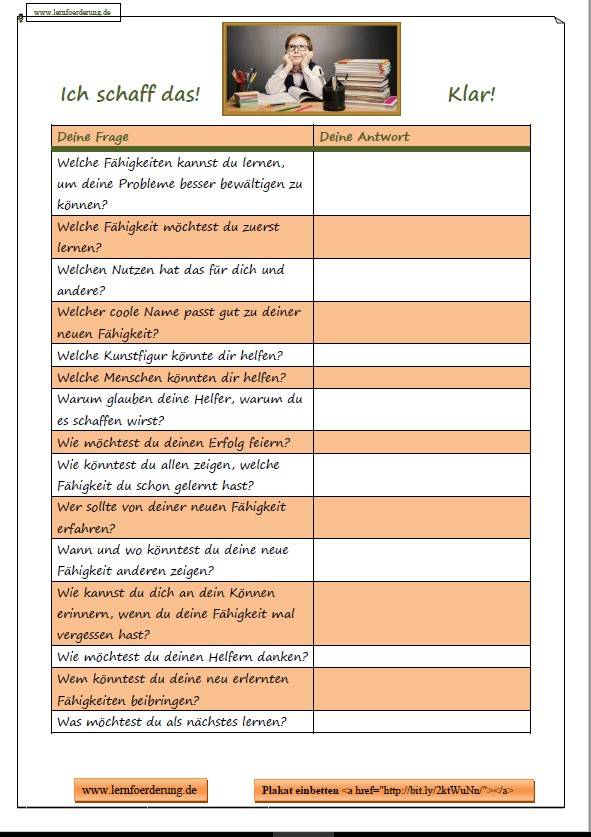 What skills can you learn to better manage your problems?
Examples: I want to be able to read better. I want to write good grades. I don't want to be afraid of dictations anymore. I want to go to school. I want to show that I am a good student.
What skill do you want to learn first?
Example: Learn to read better
What benefit does this have for you and others?
For example: I can read texts faster, understand them faster and keep up with the others. Then my class is no longer annoyed by me.
Which cool name fits your new ability well?
For example: Reading chef
Which art figure could help you?
For example: I like Superman. Or the heroes from the Viking movies. Girls' gangs and boys' clubs. Horse whisperers or inventors – there are so many great people.
Which people could help you?
For example: Dad, who likes to read with me. And he has patience. Grandpa, my mum, the Nacbnarin, a teacher, the doctor or the buddy of Peter.
Why do your helpers think why you're going to make it?
For example: Dad always says you can learn anything if you want. But you have to make an effort, stick to it and pinch the "ass cheeks".
How do you want to celebrate your success?
For example: Eat hamburgers with mom and dad.
How could you show everyone what skills you've learned?
For example: I just read the cinema program.
Who should learn about your new skills?
For example: Mum could mention it at the next teacher's talk.
When and where could you show your new skills to others?
For example: I could volunteer to read it.
How can you remember your skills once you've forgotten your skills?
For example: I think of Superman, I have a T-shirt.
How would you like to thank your helpers?
For example: I read Dad from his newspaper.
Who could you teach your newly learned skills to?
For example: My little sister also wants to learn to read.
What do you want to learn next?
For example: Playing guitar
Would you like to download the poster for your child? You must have this poster unrelated?
Would you like to publish it to your website? You need it to give away?
No problem, here you can open, download and also paste the learning poster on your page. I can do it! Download learning poster]
How to give your child the right feedback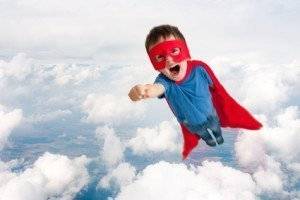 Children who make an effort to provide services need positive feedback for their efforts; regardless of the school grade achieved. Without feedback, enthusiasm quickly fades, especially among primary school students.
Especially in the first 4 years of learning, it is important to stimulate and maintain the motivation of the children through the right formulations.
Read here how feedback the motivation can be used to arouse motivation. A child's learning process is not always the same fast and always consists of different stages. Until you learn, there are very different situations that you, as a parent, know for sure.
the beginning of learning of a new content
the first learning progress
Suspension phases
Success and good grades
poor grades despite learning
Say the right thing in every situation and arouse motivation
Depending on the learning situation, it is important to make a suitable comment as feedback. Only then will the feedback also unfold its potential and motivate your child. A "Great, how far you've come"! certainly doesn't fit the learning start phase and in the hang-through phase a "super, how long you've been working!" is inappropriate.