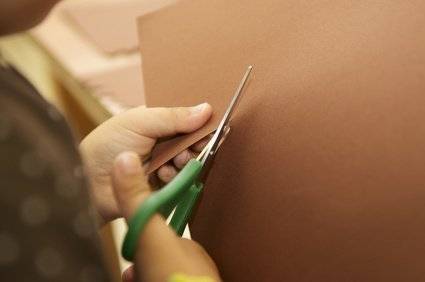 Learning with puzzles: method with potential

As long as it is still uncomfortable outside and your child spends a lot of time in rooms, you can use the learning with puzzles wonderfully. Much has probably changed in this area since the puzzle days of your childhood.
There are puzzles not only in all sizes and motifs, but also with an intense experience factor. Puzzles can glow in the dark, be in 3D and transport learning content. With each puzzle, however, it promotes the attention span and also trains the perception. If you look closely and concentrate for a long time, you can move on faster. That motivates.
Popular and effective: the matching puzzle
The clever matching puzzle is suitable for English vocabulary, one-off, grammar or subject matter. It is diverse, changeable and can be used again and again to refresh already experienced knowledge.
This example is about abbreviations in English, but many other contents are also conceivable. This is how learning works with puzzles.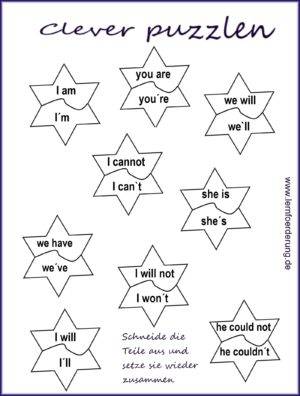 To prepare the puzzle hours
But also with every "normal puzzle" you promote your child. The most important thing about this learning method is, of course, the right puzzle. It must not overwhelm your child, it must please him or her and also have a good quality haptically.
Of course, it should be complete. Nothing is more frustrating than a puzzle that lacks a piece. All the work seems to have been in vain, learning with puzzles does not work. It is equally demotivating if the quality of the puzzle pieces is not right and small corners break off.
Just invest a few euros to get the right puzzle for your child.
There are many ways to learn with puzzles
Of course, you can simply tip out the parts on the table and ask your child to put them together into a picture. But there are other ways to work with a puzzle.
Betting puzzles alone or in teams
Time puzzles against the clock
Team puzzles, together on a picture
Learning together with puzzles has many positive aspects:
The children do something together. Instead of looking at a screen.
During the puzzle, many conversations arise.
The puzzle calms and relaxes, it makes "the head free".
Finding matching parts is a (quick) success experience that makes the children happy. That motivates you to keep going.
The exact look is trained, the visual perception.
The concentration range gradually lengthens when learning puzzles.
How betting puzzles work
When betting against an opponent, you need at least two puzzles that don't have too many pieces. If the opponents are about the same strength, you should offer two equally difficult puzzles or get two from a puzzle.
However, if your child plays against an adult, his or her puzzle may have twice as many pieces or be much more difficult. The motive is also important. A blue sky is much harder to put together than a different colored comic character.
Stick to a puzzle type and don't mix 3D puzzles with traditional games.
How time puzzles work when learning with puzzles
Puzzle against time requires a picture to be completed in a set time. Stop the time your child needs to do so. Now the puzzle is taken apart again and reassembled. Will your child do it faster? Then there are pluses or a win.
With a small puzzle of about 100 pieces, you can make time puzzles a repeat task. For all family members, the times are written down and compared. Who is improving?

Puzzles bundle the activity – this also helps with learning
Without a targeted concentration, your child cannot solve a puzzle. It has to hide everything else to do its job. It is precisely this ability that is required of him when learning.
Those who manage to hide the noise satisate noises in a class work and concentrate on the essentials will perform well. The play pedagogy professor Dr. Ulrich Heimlich is certain: "Children who are trained in puzzles also have advantages when learning at school. In addition, game research has shown that puzzles train spatial thinking."
Photo Puzzles-a great opportunity for beginners
If your child has no experience in puzzles, you can certainly inspire them with a photo puzzle. Take a beautiful picture of your family or child and let them create a puzzle. There are many cheap and simple offers on the Internet. All you need to do is select a photo and upload it to the appropriate portal.
My tip: Puzzle at the pace of your child
Children love to puzzle with their parents. However, they do not want to be patronised. Show your child the tricks (for example, first assemble the edge) but then let them work at their pace when implementing them.