Sooner or later, all parents of school children will have to ask for a desk. And the right chair must also be taken care of. Of course, this question also arises in children who have AD(H)S. If a child is particularly fidgety, his parents often cannot imagine that they sit at their desk and learn for half an hour or more. In fact, this is a major problem.
For unconcentrated, impulsive and possibly hyperactive children, there are a number of difficulties in homework or learning at home:
they are unmotivated because they don't enjoy sitting at the desk
they are very easy and very happy to be distracted, because they don't want to work anyway
they are constantly falling down or they are knocking something over or they are looking for something
often they don't even know what to do at the desk
they can't find a start
they do not find the right notebooks, pens or books
they listen to every noise from the apartment so they can't concentrate on their work at all
you don't want to be alone, feel lonely
Parents report on AD(H)S and desk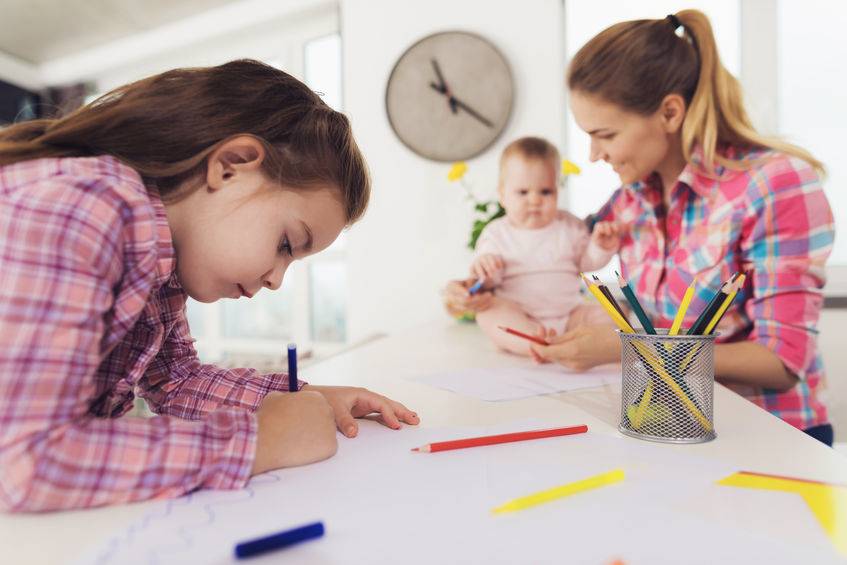 Mother of Leon, 3rd grade: "We bought a great desk in 1st class, which is easy to adjust, made of natural wood and grows with us. Leon uses it frequently, but not for homework. His colours and paints are stacked on the table, because he is an avid draughtsman. He only does the homework for me in the kitchen. Without my constant control, he wouldn't get it.'
Mother of Clara, 4th grade: "We have a normal desk that is not used. There are their collectiblepictures on it, homework is done on the floor. But not without help."
Father of Nils, 3rd grade: "For Nils to do his homework at his desk, we would have to lock him in his room. He has no desire at all to deal with his homework alone after school. In the first week, he smeared the beautiful new workplace with felt-tip pens and carved something into it with his handicraft scissors. We would never buy an expensive desk again.
Parents' solutions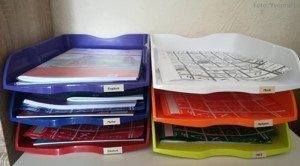 Mother of Sophie, 4th grade: For each lesson subject there is a separate shelf. With the corresponding color. For example, English purple or German red. And then we mark on the timetable the compartments in the same colors.
Father of Baptist, 2nd grade: "I bought my son a white desk and then painted it colorfully with him. On the wall he looks at while working, we have glued a soothing forest wallpaper. As a child, I hated staring at the boring wall. I thought it was awful and wanted something different for my son. Baptist likes his job, even if he has to be encouraged to learn again and again."
Mother of Sarah, 4th grade: "For us, the problem is not so much the desk, but rather the desk chair. First we had one with wheels, with which Sara has constantly rolled through the whole room. Then we just put a kitchen chair at the desk, but that wasn't so good either. Now we have got a seat stool without wheels, on which Sara can act out her urge to move. That works very well.
Desk at ADHD: little distraction and practical
Children with ADHD have to slowly get used to self-learning, which takes quite a while. Often parents have to control learning until puberty, because it simply does not work on their own. A desk is of course important, but in primary school it is often not used optimally. Nevertheless, it should be height-adjustable, have a groove at the bottom, so that the pins do not roll permanently onthe ground and have one or 2 drawers. 8 tips for the children's desk
I can't recommend an expensive model, because it's very likely that a child with ADHD will do all sorts of nonsense with their desk. It drums with its feet against the legs, gets something into the plate or decorates the table with imaginative drawings. The right size and stability are the two most important factors for the desk for ADHD.
My tip: Don't get upset when your child smears the desk. You'd rather be happy that it's sitting at your desk at all. This is not a matter of course. It is important to make sure that the desk is filled in a positive way. Don't use it as a punishment!!