All beginnings are difficult, this also applies to the writing of essays or stories, especially in the beginnings of sentences. Many children sit perplexed by their homework and do not know how to start a story or sentence.
Beginning of sentence subjects for good essays
Even if there is a good idea, they often succeed with difficulty in formulating it. Prepared sentence beginnings are an effective help for children to get started faster.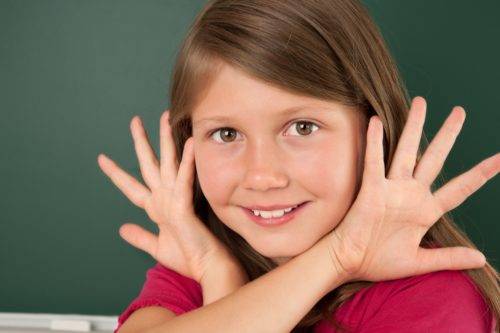 Sentence beginnings: How do I write this?
Nuri really likes the subject German, especially when reading books or inventing stories in class. However, if the topic of essay writing is on the curriculum, he rolls his eyes annoyed. Although he almost always has imaginative ideas and develops funny stories, he finds no beginning in writing and always formulates sentences the same.
Nuri knows how an essay is structured. He has to start with the introduction, write variedly and not repeat himself, but that is what he is having problems with. The stupid beginnings of sentence take away the fun of inventing the story.
The beginning of sentence fan helps with formulation
A common error in writing an essay is the same sentence beginnings. Even if a story is truly imaginative and entertaining, its magic is disturbed by boring, identical sentence beginnings (and then, and then, and then).
Not only the introduction, but in general the beginnings of sentences cause problems for many students. For these children, there is a great help with which a compact knowledge of writing different and varied sentence beginnings succeeds better and better over time: the beginning of sentences.
This is how the beginning of sentence snipes
The beginner compartment is quickly built and can be easily stored in the school ranch or in the desk drawer. With each essay, the subject is a valuable help to quickly find different sentence beginnings.
And that's what it looks like. 10 to 20 "flower leaves" are cut out of a craft box and labelled with different sentence beginnings. A pattern clip holds the fan together. The fan can now be folded by your child and shows a wide range of possible sentence beginnings. Your child can simply select a suitable sentence start when writing.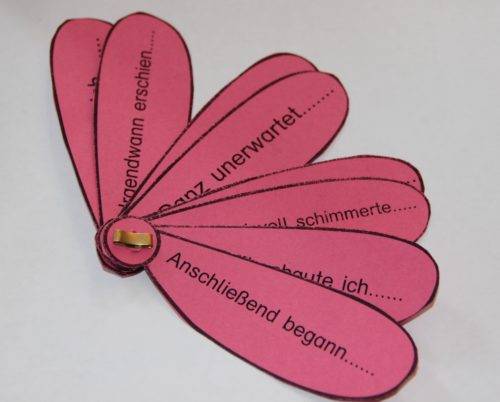 A selection of possible sentence beginnings
After me / he / she ….
Suddenly…
In the distance I saw…
Then, after that, that's why…
Later I knew / he / she …
An idea took shape….
At some point…
Then began….
Mysterious sounds….
I/he/she thought….
During…
Then …
Invent more sentence beginnings together with your child
If you have some time, it's important to include your child in finding sentence beginnings. Of course, it may also cut out and label the compartment parts, perhaps in colorful colors.
The more your child thinks about this subject, the easier it will be for him to incorporate varied sentence beginnings into his stories. At some point, it will no longer need the subject, but will take new formulations from its memory.