How to protect your child from mobile phone addiction
More and more children already have a smartphone in primary school, even if it is often the discarded model of the parents. This also brings the danger of mobile phone addiction within reach. What the children do with this is not infrequently hidden from the guardians.
Or they don't see the danger posed, for example, by certain games that seem harmless. Here you can find out exactly what you need to pay attention to with your smartphone and why the comparison with gambling is not so absurd.
The most exciting thing for students is to find their smartphone when they can play with it. However, the current games are no longer as harmless as they were a few years ago.
The gaming industry uses various tricks to attract young customers and make money from them. Mobile phone addiction is a big business that brings a lot of money to the providers' coffers.
At Fortnite and Co. there is a lot of psychology in play
Today, no one who wants to deal with a new game has to pay money. This is often also an argument for parents to allow their child one or the other game. But beware, the games are extremely attractive and can be addictive in the long run. Mobile phone addiction is a modern phenomenon that is spreading rapidly.
Many mobile games cost nothing and help bridge phases of boredom – how practical. But this is just the beginning. The children begin to get used to the game world. They work their way up from level to level and become more and more eager to progress in the game. After a certain period of time, however, this hardly goes on a normal, i.e. the free and short way.
Super weapons and super abilities cost money
Sometime after many hours of play, there is the possibility to improve your own skills with additional skills (or skins). A very special weapon, a certain mode of movement, a special dance or magical friends guarantee that the enemies can finally be defeated.
This means that the little players are also in a good position in front of their friends. Which child doesn't want that? As if we are playing on and on – and mobile phone addiction threatens in the long term.
These so-called "in app sales" come cleverly packaged and don't seem like a big investment at all. If the parents have already provided their bank details (credit card) when installing, the children can shop (further) with just one click. But more and more children are also spending their pocket money on a special skill.
For example, if you need the premium currency V-Bucks in Epics Fortnite: Battle Royale, you can either grin in PvE mode or simply buy the credits. There are packages between 10 and 100 euros – a large amount comes together quickly.
Buying incentives are getting better psychologically
Most children know full well that they are not allowed to shop on the Internet. But those who forfeit mobile phone addiction no longer pay attention to it. Some games have such a psychological effect on the young players that they can't help it. Similar to gambling, certain functions of a game activate the reward system in the brain.
This feeling is so overwhelmingly positive that some children cannot resist it and always want to bring it about again. The border to non-substance-linked addiction is fluid here. Keep in mind that this is not about experienced adults, but about inexperienced children.
Many parents are bad role models (or even mobile-addicted)
When using the smartphone as an entertainment object, the boundaries between child and adult are no longer obvious. Whether father, mother or child, everyone has fallen into the fascination of small computers. It doesn't matter if the mails are checked, the social networks are visited or a game is played. The attractiveness of smartphones is immense, and even adults find it difficult to get away from them.
Prohibitions on mobile phone use are neither convincing nor comprehensible for children if their parents do not adhere to them themselves and constantly look at the screen.
Usage times for screen media against mobile phone addiction
| | | |
| --- | --- | --- |
| Age | Screen media | Source |
| 6-10 years | together for a maximum of 45-60 minutes | Federal Centre for Health Education |
| 7-10 years | 30-45 minutes | klicksafe.de |
| 10-13 years | 60 minutes a day (negotiable) | klicksafe.de |
| 6-9 years | up to 60 minutes | schau-hin.info |
| from 10 years | 10 minutes of media time per year of life per day or one hour per year per week | schau-hin.info |
Parents do everyday tasks via smartphone
A big disadvantage of the little all-rounders is that people stop talking to each other. If you look into your smartphone, you're not always busy playing games. Many things of everyday life are done via the mobile phone. But unfortunately children don't get that. You just see that mom or dad is staring at the little screen again.
Whether they are reading the latest news, looking up a recipe, ordering spare parts for the bicycle, filling out a bank transfer or looking at directions, the children are hidden. Many think their parents are just playing with their smartphones. This behaviour is then imitated.
Talk to your child to prevent mobile phone addiction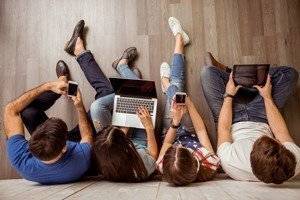 Try to remember that your child doesn't know why you're using your smartphone. As a practical helper in all situations of life, it is no longer a family to be imagined without it.
Therefore, your child should also learn at an early stage the benefits of the mobile phone. Thus, the mobile phone becomes a valuable memory of knowledge and everyday helpers from a pure entertainment medium.
Just explain what they're doing:
Carnival is a different time every year. I'll see how the date is set.
Tomorrow we want to take the S-Bahn to the neighbouring town. I'll look at the timetable so we know when we need to go.
Leon wants a new book for his birthday. I'll see if there's anything from his favorite series.
Anyone who verbalizes his own usage behaviour in this form also controls it. Impulsive checking of emails or uncontrolled responses to push messages can be prevented much better. Because nobody likes to say: "I really just wanted to watch the TV program for a moment, then I ended up with my mails and now I've been watching a video that Klara shared for 10 minutes."
Media literacy should be part of everyday life
The conscious use of a smartphone or A PC means continuous work for parents and children. At least every six months, the family should sit down and set rules for dealing with them. These come as posters on the wall or are written on cards and attached to the refrigerator with magnets.
There they should not be forgotten, but should be taken up and discussed again and again. It is also very helpful to conclude a smartphone usage contract and check it regularly.
Be strict, that's not bad
If you're not sure if you should allow your child an app or a game, you'd better choose not to. Then, please ask for information in peace, for example from your school's media consultant or on the corresponding pages on the Internet(www.medienbewusst.de or www.schau-hin.info).